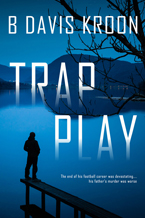 Trap Play
B. Davis Kroon grew up in a family of story tellers, most notably, her father's eldest brother, Pulitzer Prize winning Oregon writer, H.L. Davis. She's been addicted to mysteries and suspense books since her teen years.
Though she studied music theory and piano at Willamette University, it was theatre that captured her imagination. During her senior year, she wrote the book and lyrics to the musical comedy, The Lady's Game. After Willamette, she worked in law to support her theatre habit. Eventually, though, she turned from theatre to writing poetry. Her work appears in numerous literary journals and as one section of a book of poetry, Millennial Spring—Eight New Oregon Poets.
Her father first introduced her to football. These days, she and her husband can be found in their usual seats at University of Washington football games. While they travel extensively to support the Huskies, they live in Vancouver, Washington with a Cairn terrier and a Siamese cat.
Trap Play, a suspense thriller set in Seattle, Scottsdale and Minneapolis, is her first suspense novel; she is currently working on book two in the Ben Leit series, as yet untitled.